NEWS FLASH: Oozle Media Stars Make their 1st Red Carpet Debut at the Utah Entertainment and Choice Awards
Have you ever pulled up to a red carpet event in a yellow "short" bus, with some random guy in a fur coat, and Survivor star, Tyson Apostol, wearing a t-shirt with the words 'PERVERT' on the front?
If not, Oozle Media highly recommends it!
On May 20th, the Internet Marketing stars rolled up to the Utah Choice and Entertainment Awards in style, and mingled with Hollywood stars, including Daniel Bernhardt (Matrix Reloaded), David Archuleta (American Idol), and Debbie Gibson (80's pop princess). Oozle Media both attended and sponsored the event.
What were some of the highlights? The After Party Dance Show! Who knew our two Daves could dance like that? Also, Ms. Amy Kunz's (Oozle's Executive Assistant) unexpected rendition of Motley Crue's, 'Shout at the Devil'.

How many outbursts did Tyson Apostol make during the show? Probably about 4!
Did we ever figure out who that fur coat guy was? Tyson's partner in crime, Dana Hill.
Check out more highlights below:
In regards to the short bus, Oozle's CEO, Scott Linford, stated, "We didn't want to do the Hummer limo thing, because everybody does that! Who rides up to a red carpeted event in a big, yellow bus? We do! At Oozle Media, we're all about stepping outside the box and doing things that haven't been done before. Besides, who says what's cool and what's not? We want to make our own cool."
As the Oozler's rolled up to the Salt Palace decked out in suits and fancy dresses, the plan was for Tyson Apostol to jump out of the bus and onto the red carpet, while performing a karate kick. But, this plan was immediately axed once they realized that the red carpet was actually inside, and very few people would see it.
Aw, well! At least they get points for trying!
On the red carpet, Tyson managed to both charm and offend Utah's entertainment media and photographers, and everyone posed beautifully for the cameras.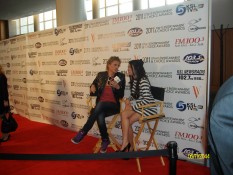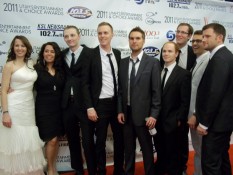 During the award show, the guests dined on chicken and steamed vegetables, and enjoyed the entertainment by rap star TJ Fredette, among others. Following the successful event, the Oozlers hopped back on their bus and headed out for a little late night dancing (which lasted all of 20 minutes, but they still got to witness Scott's 'Dirty Baker', and Oozle's genius programmer, Jeff Losee, do the 'worm').
Of the highly anticipated night, event host and Matrix Reloaded star, Daniel Bernhardt, told the media he has "…quite a few projects coming up and (he is) trying to focus the producer's attention to the many different landscapes and possibilities Utah has to offer when filming."  He also felt that this  event will have a positive impact on the entertainment industry in Utah.
Congratulations to the winners from Oozle Media:
Choice in Broadcasting Award, KBER 101 with MICK & ALLEN
Choice in Media Award, PARK CITY TELEVISION
Choice in Print Award,SALT LAKE CITY MAGAZINE
Choice in Film Award, KURT HALE
Choice in Future Award, "CHEF TOM" WOODBURY
Life Time Achievement Award, Alan Osmond
Oh ya, and Happy Birthday Janet!