Just Another Day at the Office…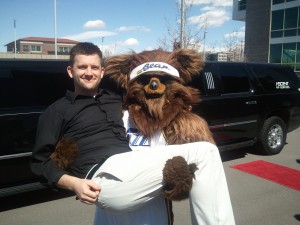 At Oozle Media, we take great pride in our fun and creative work environment.
When the timing is right, we have regular breaks for all sorts of fun and stress free activities, including:
The occasional dance competition
Intense games of trash can basketball
Lunch & Learns (we buy lunch & our employees present on a topic    of   their choice. It can even be about Zombies if they are into that sort of thing!)
Ping pong and Foosball tournaments
Red carpet moments with the JAZZ BEAR (ever heard of him?!)
Today, we were delighted to find the Jazz Bear filming a commercial  (in our very own parking lot) for the 2011 Utah's Entertainment Choice Awards.  Of course, we had to run down and take full advantage of the situation!  The Jazz Bear took one look at our CEO, Travis Ashby, and picked him up in his arms.  How cute!
Watch for us in the upcoming commercial which will air on a TV near you very soon!