Just a Bunch of Pranksters at Heart…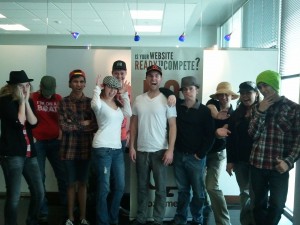 In celebration of April Fool's Day we asked (not to be confused with demanded) that our staff wear their favorite hat to work.  We thought we'd get all sorts of fun looks like Zombie or Cowboy hats, but surprisingly most everyone showed up looking pretty normal (except for maybe Dave Wong with his lime green beanie.  What was up with that?).
April Fool's Day is a special holiday for many of us Oozlers.  Why? Because we're pranksters at heart and we love a good laugh!  At work, somebody is either trying to trick someone else into eating a  dog biscuit shaped like a cookie, swapping out chairs, or hiding smelly objects in hard to reach places.
This year our fun loving Executive Assistant, Amy Kunz, had a professional eviction notice sent to us by the owner of our floor.  The letter stated we had to be out of the building ASAP! Ouch!  She got us good (and luckily nobody was hurt)!
Happy (belated) April Fool's Day from all of us at Oozle Media!