5 Ways to Drive Traffic to Your Website through LinkedIn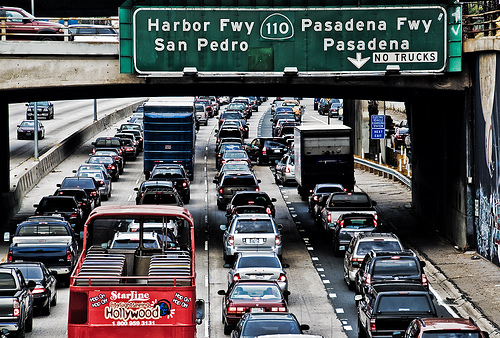 In case you didn't know, LinkedIn is not just there to help you score that promotion you've been secretly obsessing over. (All in good time, my friend!)
LinkedIn is also the world's largest professional network (with over 100 million members), and jam packed with important social features which, if utilized correctly, can drive more traffic to your website.
We're talking traffic like the kind you find on a Friday evening in Los Angeles!
Ok, maybe not that extreme, but you will see an increase if done correctly. Here's how:
Optimize your URL. LinkedIn automatically gives your profile a random numbered or lettered URL. However, you can customize it by choosing your own URL. This will help people find you more easily and also enhance your company's rank in Google.
Share blog links. If you have a well written company blog, it's important to share blog links with LinkedIn so your posts can be featured on LinkedIn Today, which is a daily digest of news and links shared by members.
Stay on top of popular topics in your industry with LinkedIn Signal. It's extremely important to know what both professionals and consumers are talking about in relation to your industry. This ensures you stay relevant by including these topics in blog posts, social media campaigns, etc. LinkedIn Signal is also a great way to build new connections by identifying what people in your industry are talking about.
Always keep your page updated. A stale company page is never good. Get into a habit of using it to post job opportunities, company news, blogs and important links to your products/services.
Actively participate in groups related to your industry. LinkedIn is full of groups for any profession you can imagine! Find your field and pick related groups that interest you in order to stay relevant and in the know. This is also a strong way to network with others in your industry. /li>
Are you linked in?
If you don't yet have a profile on LinkedIn, get one A.S.A.P and if you need a company to create and manage your online branding campaign, GET OOZLED today! We are your Utah SEO experts!